I just realized this is my 800th post! Aw. I've never actually noticed any of these milestones before, ha! That's a lot of blogging. I started when I was pregnant with Layla, now 7 year old. A blog can become quite special to a person, no? Especially when one's hard drive erases all the backed up photos she felt so responsible for putting on it. That happened to me several months ago, but no worries ... all my faves are on the blog anyway :)
I thought I'd share my sewing room today! I rearranged and orgainized it over the weekend because Casey bought me a little smart TV for up there as an anniversary present. Our anniversary isn't for three weeks or so, but he's leaving town for the mainland for a couple weeks soon and thought it would be nice if I could spend my evenings up there watching Murder She Wrote, sewing and yapping at my kids to get back in bed ;)
Here's what it looks like for now:
Some of my fabric, cottons and kid fabrics, are under the table in easy-view bins.
Everyone needs a mirror in their sewing room!
I have a walk-in closet!
Yeah, I could use some shelves. These are my clothing and home dec fabrics.
And this is the ginormous box that my girls have free reign over. I cleaned out my fabrics and was *this close* to donating this box, when the girls spotted it and went nuts. So it was kept and moved and I'm SO glad they have a pile of fabrics to use without having ask me if it's ok. Our upstairs landing ahs a built-in desk where we set up their sewing machine so they have a space to create too. They come up with some pretty great things!
And I couldn't exclude the view out that sliding door. You can see some tiny tall buildings on the left edge and that is Waikiki. In case you're wondering.
Since we were offered a four bedroom house here, Casey pretty much insisted the girls share the huge fourth bedroom so I could have this little one for sewing. One of the girls in particular was not happy about this at all and I would have given in like a big softie, but he held his ground and I am so glad he did that for me! In the past my sewing spot has bounced around from guest room, to living room, to basement, to right inside the front door, so having a room of my own is a special treat, especially since our downstairs is basically one huge room and the noise levels get pretty up there!
I have great plans for this space to make it even better! I plan to paint the chair green and recover the seat part in a fun fabric. And recover the ironing board also. And hang some floor to ceiling curtains. We are going to mount the TV on that wall at some point and I'd like to buy some fun art from Etsy that I love, but wouldn't really fly in other parts of the house.
Like this Nancy Drew print! LOVE!
(source)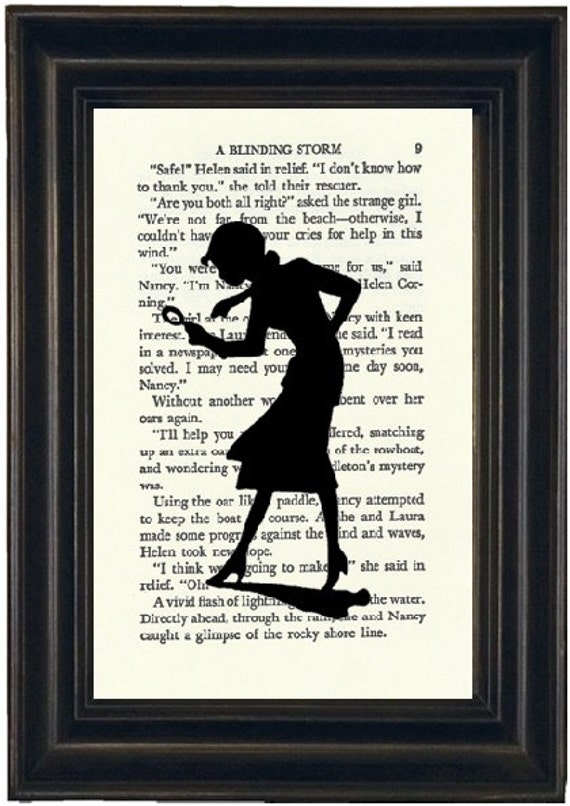 And this Jane Austen quote:
(source)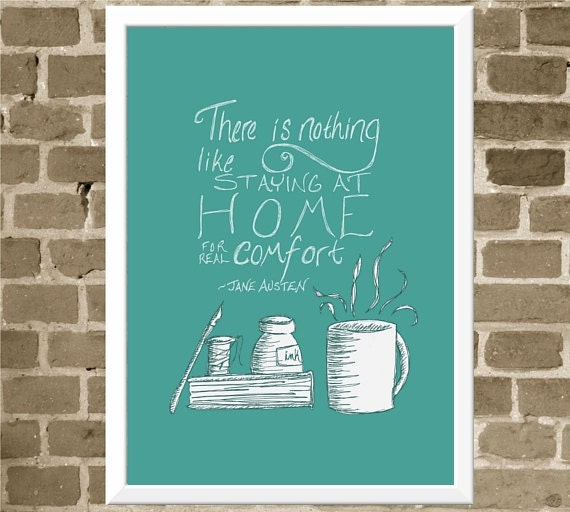 Among other such literary loves of mine. I am glad to have that closet so I can keep the room relatively uncluttered. I love looking at great sewing room ideas on Pinterest and I've found my favorites are those that look clean and don't have wall-to-wall bookcases of fabrics and notions (although that can be so pretty too!)
Put your best sewing room organization and storage tips in the comments! What are your favorites thing in your sewing spot?
Happy Friday!