Before I get started here, I'd like to give a shout out to how awesome
PicMonkey
is!! I designed my new header and the new sidebar buttons with no frustration and with great ease using that site. I "splurge" on the $5 a month for the pro membership. After using a 30 day trial of Photoshop recently and finding it way too cumbersome and time-consuming for my needs (not to mention expensive), I find PicMonkey to be soooo much fun.
Next bit of news,
Fancy That now has it's very own Facebook Page
!! It used to be the page for my Etsy shop, but that is no longer in operation so I turned that wasted space on the Internet into something useful :) You can find and like that page
here
and thus receive my new posts on your timeline. There is also a cute new button to the right that will always take you right to it.
Now for the bit of sewing I have been doing. I made the girls some super cute knit dresses from
McCall's 6785
. This is Natalie's (Layla doesn't want to model hers right now. Shoulda taken pictures yesterday when she was wearing it!)
Layla's is out of a cute cherry print knit and I made the other view with the cute ties at the hem. It's adorable. Don't worry, I'm determined to get pics of her in it! This is the pattern envelope: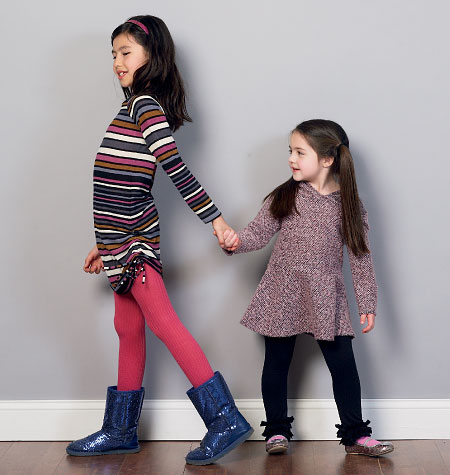 And so, my Fall sewing has commenced. I have a lot of great plans, but I'm not sure if I should dig in now or just wait until after the move. I definitely can't go weeks without sewing ... so I guess I just answered my own question! I'm digging in ;)
We went to our favorite thrift store on Sunday afternoon (the one the kids got all excited about, haha) and they happened to have all kids' clothes half off that day. We had just left Old Navy--I wandered around thinking, "I could so make that better and for a lot less money" and Casey and I were both snubbing our noses at their "clearance" prices. Call us cheap, but when three kids need complete new wardrobes every time the seasons change, you'd have a $5 limit for kids' clothes too! This Old Navy experience made Savers even more fun. We get clothes there that we would never but in stores: Gap, Banana Republic, Abercrombie kids, Gymboree--these were all represented in our haul on Sunday for between 1 and 3 dollars a piece. Thrifting is just the way to go, in my most humble opinion. How do you shop frugally for kids' clothes?