I do have more actual book-in-hand resources to share, but I have also found some really great free online resources that I've found some very helpful things on, so I want to take a minute to share the wealth with you today :)
First up, this blog is written for children and explores some of the most unique and interesting of God's creatures. It's called
I Spy Animals
and the kids and I have spent lots of time there reading fun facts and looking at the amazing photographs. Just today, we were glued to
this Jellyfish post
. Isn't this AMAZING!?
What a great reason to talk about God's creativity!
Another great online resource is the free downloads page at
Teacherspayteachers.com
. This is a site where teachers everywhere can design and post all kinds of printable materials. You can find anything and everything on this site. Just today I downloaded this
Pumpkins on a vine
activity and enjoyed making the little book with the girls.
Which brings me #3: The pumpkin activity was created by
Musing of Me
, whose blog I subscribe to because of all her amazing printables! Some are free and some are for sale, but not expensive for a whole unit study on a fun subject.
Another great blog I subscribe to for the same reason is
Crazy for First Grade
. This is a school teacher, but most of her resources are very homeschool friendly.
Pinterest has provided some great ideas too! You can find and follow my "Homeschooling" board
here
.
I pinned this jackolantern craft there a few days ago, after I saw them on
Deep Space Sparkle Art lessons for kids
(a great resource for art projects with basic supplies and searchable by grade). I can't wait to make these next week!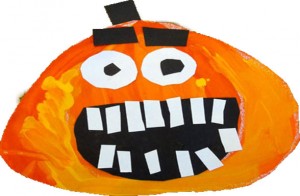 That's all for now! All this linking takes a lot of time :)
But I'll post more as I find them.
Cheers!