Here's what's on our current reads shelf lately. What's on yours??
Drawing Lab for Mixed Media Artists--I love this book. I spotted it at Barnes & Noble recently and had a coupon, so had to buy it. I bought it for a relaxing activity for myself, and love sitting on my rocking chair on the front porch with my sketch book while the kids play in the yard, but the girls and I have some fun together with it too. Very fun projects in here, whether you're good at drawing or not! I think the key point in this book is that you don't have to be great at drawing to enjoy it.
2.
What is a Family?
This is another winner by Edith Schaeffer. I loved her book,
The Hidden Art of Homemaking
a few years ago and I love this one just as much so far. Great read for women. Both these books are out of print, but you can order them used on Amazon like I did.
3.
Grace Based Parenting
--I mentioned I was reading this a few weeks ago, but I've finished it now and can say that it was rather life-changing for me. It not only revolutionized how I think about my children, it changed how I think about God's feelings toward me. I am really, really glad I read this one. A little disclaimer, though--if you, as a parent tend to err on the side of
leniency
, please read this book with careful discernment. However, if you have to fight against harshness, anger or frustration, like I do, this book is for you!
4.
The Reading Lesson
--This is the book I chose to teach Natalie to read this year. I really like it and it's working really well. Within the first few days, she could read several words and the lessons coincide almost perfectly with the fabulous
B.O.B. books
. It was a good choice and I'll definitely use it for the other two kiddos when the time comes!
5.
Little Women
--I have really been enjoying this book, although I read it when I was a kid and of course, I've seen the movie. There's nothing like a good classic! I have a nice little collection of these Barnes & Noble Classics, thanks to my mother-in-law and Casey last Christmas. They look so pretty, all matchy-matchy and stacked on my book shelf :) I can't wait until the girls are old enough for me to read
Little Women
out loud to them--and
Anne of Green Gables
and all of Jane Austen, obviously ;) And I hope Kelby will like
The Count of Monte Cristo
when he's older, one of my favorites! Since I liked that one so much, I started Dumas's
The Three Musketeers
and gave it about 120 pages before I gave up on it. I think I'd have to have a Master's degree in French history to make any sense of it. Oh, well, I don't have to like them all, right?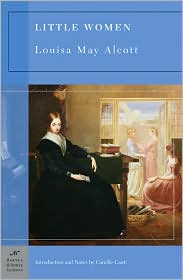 Happy reading!