Does anyone get super excited when any one of the major pattern companies puts their new season of patterns up online?? Or stalk the sites daily just to check if the Fall lines are out yet?? I DO! I loooooove looking at the brand new designs! I'm liking a few that are already out and am anticipating the latest from the late-comers. But, first, I wanted to share this top I made before my big trip:
It's
McCall's 6359
and I used a rayon knit I found on major clearance at JoAnn:
The racerback is my favorite part of this pattern:
I shortened it quite a bit to make it less of a tunic. It's not my favorite top, but I love that it's light and easy to wear, does not require a cami (cause it's too hot for that!) and I do like the back a lot. I would like to try the other view on the pattern, but it includes a built-in shelf bra. I can't pull that off (nor can most women!) and I wouldn't really know how to omit it. Oh, well.
On to the Fall patterns!!!
Several bloggers have already said hilarious things about the ridiculous styling and positioning of the models in
Vogue's new patterns
! So weird!! It's hard to even see past the awkward poses to the lines of the garments! So I'll post the pictures of the gals standing normal :)
I really like Vogue 1315:
It's a simple, but interesting long sleeved knit dress. I can see this worn with skinny jeans, or made a bit longer and worn alone. I like it. The pockets are cool, the neckline finishing is different and I think it would a good casual dress for my everyday.
I don't know if I'll actually buy 1317, because I'm not sure I'd have much occasion to wear it, but I think this dress is very classy and has that Mad Men vibe that is so in right now. The only way I would use it would probably be for a Christmas dress, but even then, I don't know how comfortable it looks and I like to be very comfortable in my clothes, even the structured ones.
Vogue 8829 is one I looked right over twice, and can you blame me? Look at this awful fabric choice!!!
EEK! But, look at this version, where you can actually see the waistline seam:
Much cuter. The other views are all nicer than the mock-up. This pattern has potential. Bad call, Vogue, on the crazy shiny green fabric, though.
Some Simplicity patterns are out too. 1755 is the only one I like (other than some of the costume patterns!)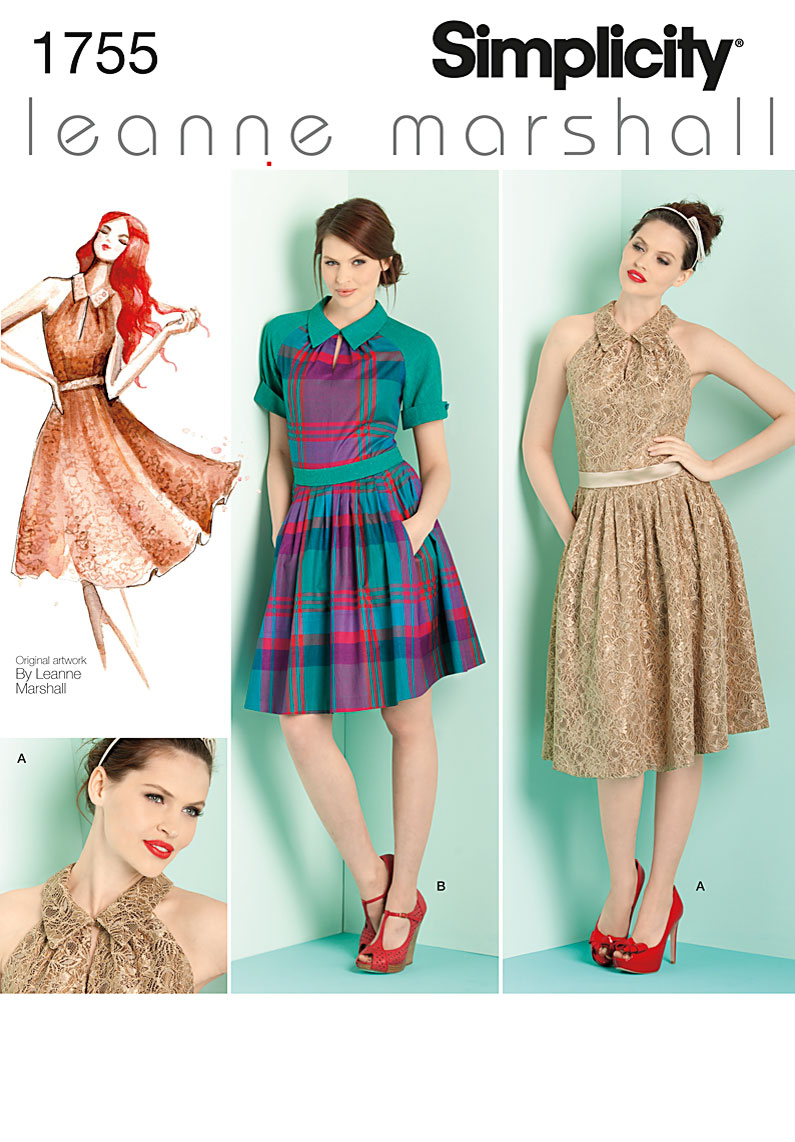 That plaid and green version is hideous, but the gold dress is stunning!!! I don't know how much sense it makes in the colder months, though, so for me it might become a summer pattern--unless we suddenly get invited to several formal events where shoulder-baring would be normal ;)
I must be in a Fall sewing mood now, because here's my haul from Denver Fabrics last weekend:
I can see a color palette emerging! And I'm liking it a lot.